With EELISA, academic teaching is no longer limited to your home university. By specifically promoting innovative on-site, online, and blended courses, EELISA creates numerous new opportunities for exchange and networking. Extend the reach of your lectures, seminars, or courses, experience inter-European exchange in the lecture hall or laboratory, create a strong scientific community to tackle local, regional and global challenges of our time.
Create innovative educational offers
Use the challenge-based teaching approach to create innovative education formats together with industry and society. Develop new activities that are flexible in terms of content, duration, and location and are open for types of learners.
Use new mobility offers
Travel alone or together with your students and co-educators (also virtually) to the EELISA partner universities and work on multinational, interdisciplinary tasks.
Apply for (financial) support
FAU provides personal and financial support for (virtual) mobility, continuing education and new teaching formats. In addition, FAU's EELISA team will support you in submitting applications for European educational projects.
Expand your European network for education and research. Start new projects in the fields of education, research, innovation or social services together with European partners.
Open your courses for EELISA students
If you have a course offer in mind that you would like to open to the EELISA audience, please write to us at eelisa@fau.de. The EELISA course catalog with all English-taught offers that are accessible to the EELISA audience will be advertised on the EELISA website.
Discover more on www.eelisa.eu
Get Involved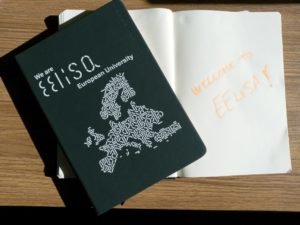 Monthly Onboarding sessions: an opportunity to learn more about EELISA
This session led by UPB offers the possibility to learn the key elements that define EELISA – its framework, mission, vision, ongoing developments, and activities while meeting and connecting with the people who are making EELISA happen.