Monday, 13 Novemver is the day!
To celebrate our EELISA Days at FAU, we are organising a second pub quiz at the Kanapee in Erlangen (Neue Straße 50). 20 teams can prove their knowledge about Europe and compete for the main prize, four Interrailtickets*. The quiz will be held in English and German.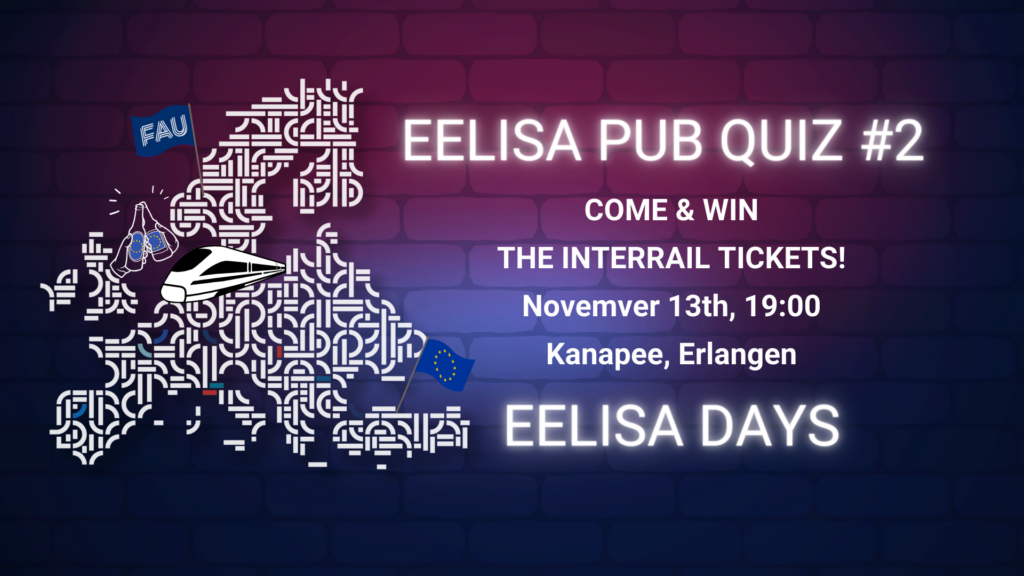 When? November 13th, 7:00 pm
Where? Kanapee in Erlangen (Neue Straße 50)
For whom? Teams of four, only FAU students
Why? Win four Interrailtickets
How? Register as a team of four in the form below
Be quick, only the first 20 registrations will be entered. Follow us on Instagram to be notified on November 13th if a team spontaneously drops out and you can move up. Teams that have not arrived at the Kanapee by 7:00 pm on November 13th will be automatically disqualified and another team will be allowed to move up. The pub quiz is open to FAU students only.
* The Interrailtickets are four Global Passes with four travel days within one month. Your travel must be before the end of 2024 and on the condition that you stop at one of the EELISA partner universities and take a photo of yourself in front of the university. An overview of the EELISA universities can be found here.
Feel free to contact us and we can connect you with local students of our partner universities if you wish.
Find some impressions of our first EELISA Pub Quiz on our Instagram account.
Registration closed!
Any further questions? Please contact
Communication, Dissemination and Branding