What was this event about?
Pitch Event for FAU-Start-ups @Zollhof Tech Incubator in Nuremberg on September 28th 2022
A platform for smart ideas and solutions
Creative FAU-students, employees and alumni had a chance to present their project, team, solution and an amazing business model!
For that they had 3 minutes to pitch and around 7 minutes for questions and feedback.
Pitch-Presentations in 3 min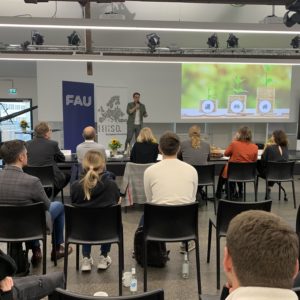 The Start-Up Demo Day Jury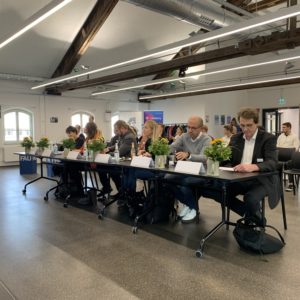 Time for Networking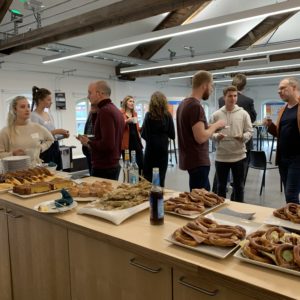 What was in it for the teams?
The BEST Team got a mentor from the EELISA innovation ecosystem
A spot on the EELISA Demo Day stage happening in December
The top three teams received a free coaching (worth 1k€)!
The pitches were ranked by our jury, which consisted of business and science experts:
Anna Werner – Medical Valley EMN – CEO and member of the Managing Board
Anne Braun – Zollhof Tech Incubator – Digital Health Hub Lead ] Senior Marketing Lead
Prof. Carolin Durst – ITONICS – Director, Hochschule Ansbach – Vice President Research
Christoph Heynen – FAU – Head of Tech Transfer, Spin off Services and Existency
Jürgen Wölfl – ProLeit GmbH – Senior Director
Thomas Mühlmann – LZE – Business Development Manager
Our Start-Up Demo Day winners 2022:
After all 10 pitches were presented, the jury took their time to ask questions and decide on the winners.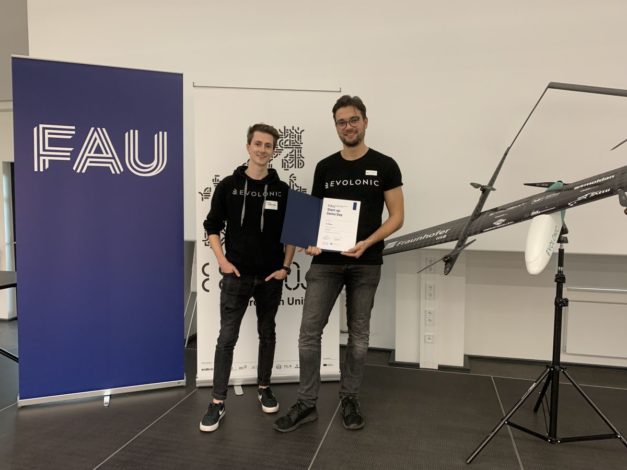 1st Place: EVOLONIC
These students have developed a drone which can scan large areas and deliver better data than satellites – thanks to its special construction. They joined forces with students from the Innovation Lab (Machine Learning and Data Analytics) and the fire department Erlangen and equiped a drone with sensors in ordner to detect forest fires at an early stage and transimit this information to helpers. More Information: www.evolonic.de
As winners they get to represent FAU at the EELISA Start-Up Demo Day in Pisa.
2nd Place: Phymed Innovation
Lara Delvic, Ana Bojic and Akshat Sharma founded Phymed Innovation to improve the radiation of breast cancer. They are working on a personalized bra with a perfect fit which allows a precise radiation. Not only does this make the therapy effienct but it also prevents the surrounding tissue from damage due to radiation.
3rd Place: Excav Pilot
The founder Emmanuel Sizmann has created a way to accelarate excavation work thanks to sensors. Excavation work is one of the first steps of construction work. Thanks to his invention groundwork, such as digging and making the ground even or laying down pipes, can be done in less time.
Congratulations to all our winners for 2022!
And a great thank you to all our participants for their great pitch presentations.
Read more about our FAU Start-Up Demo Day on the FAU Newsportal:
The search for the most innovative start-up › Friedrich-Alexander-Universität Erlangen-Nürnberg (fau.eu)
---
Are you interested in participating in future events?
Feel free to follow us on Social Media:
Or drop us a line via e-mail: